As many of you will know we finished up our previous garden outreach project at The Alzheimer's Society Orchard Day Care Centre garden in early summer of last year, where we helped clear, plant and maintain the garden to the point where it could be handed over to a more permanent maintenance schedule.
Dr. Mary Toomey, the instigator and driving force behind the Orchard garden project, had decided to involve students from the Botanic Gardens to continue the work.
We feel it is an important element of the Foxrock & District Garden Club that we participate in some way in the community. All who took part in the Orchard Day Care Centre garden project found it really enjoyable and rewarding. So last Autumn we started to look for another worthwhile project.
Saint John of God Carmona Services provides a range of day and residential services and supports for children and adults with an intellectual disability in South Dublin.
Dedicated in honour of St. John Grande from Carmona, Spain, a Saint John of God Brother who died in 1600, services provided to almost 400 adults and children include:
– Early services for children 0-6 years
– A special school for children with severe/profound intellectual disability
– Children's outreach service
– Adult day services
– Residential and respite services
There are 10 outreach training services in the catchment area which extends from Wicklow to Ringsend and includes the Foxrock area. There are also approximately 20 residential houses and a really desperate need for more.
The Dunmore House centre in Glenageary has both long term and respite houses: like any other suburban home, all of these have gardens. It will come as no surprise that, due to restrictions of funding and personnel, only very basic maintenance can be carried out, and many of them could do with some "TLC".
Funding has gone drastically down since the Celtic Tiger days, but the amount of new service users has gone steadily up every year. The bulk of their funding goes to maintaining safe staff levels, which means all the refurbishment of buildings and gardens is put last. Fund raising and voluntary input has always played a very large part in the running of the service.
One of the long term residential houses, Kilgarvan, was selected by the administration and maintenance managers as most in need of restoration. Kilgarvan is a residential house, situated on 111, Upper Glenageary Rd . There are four ladies living there and their house is situated immediately beside the main grounds of Carmona Sevices, with its own private entrance and garden. This garden is terribly overgrown with no patio area at all. All last summer, with the beautiful weather there was nowhere for the residents to sit out.
So a group of us went to visit the garden last Autumn. It is a very small garden which is terribly overgrown and dark. But we had a good look around and in spite of the biting wind spent a long time trying to assess the potential which we felt sure must be there!
For safety reasons (there was a small driveway in the front which meant their mini bus had to reverse out on to a very busy road) the front driveway will be extended and in the process they will clear most of the trees and large shrubs in the front. This means the sitting room will at last get some natural light and gives us a free hand to replant that area and maintain it.
Summie contemplates the scale of the clearance task >>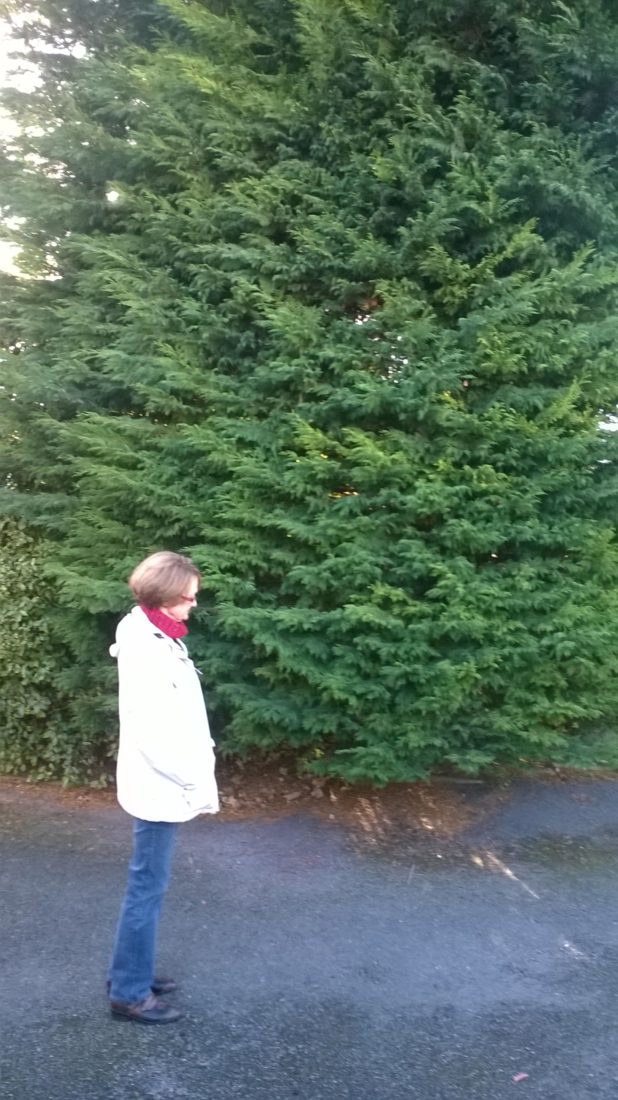 The back garden will require both clearing and basic reconstruction. There is a concrete ramp leading down to a lower small lawn but the ramp is far too steep even to walk down, not to mind bring a wheelchair, so that will have to be knocked down. There is another area which is completely overgrown with massive Griselinia and other "out of control" shrubs. There is also a huge Griselinia hedge which blocks off all light as one enters the garden. We felt if this was lowered there might actually be a sea view! Ivy is rampant everywhere. The overall feeling of the garden is quite dark and claustrophobic.
..the existing ramp is far too steep even to walk down….>>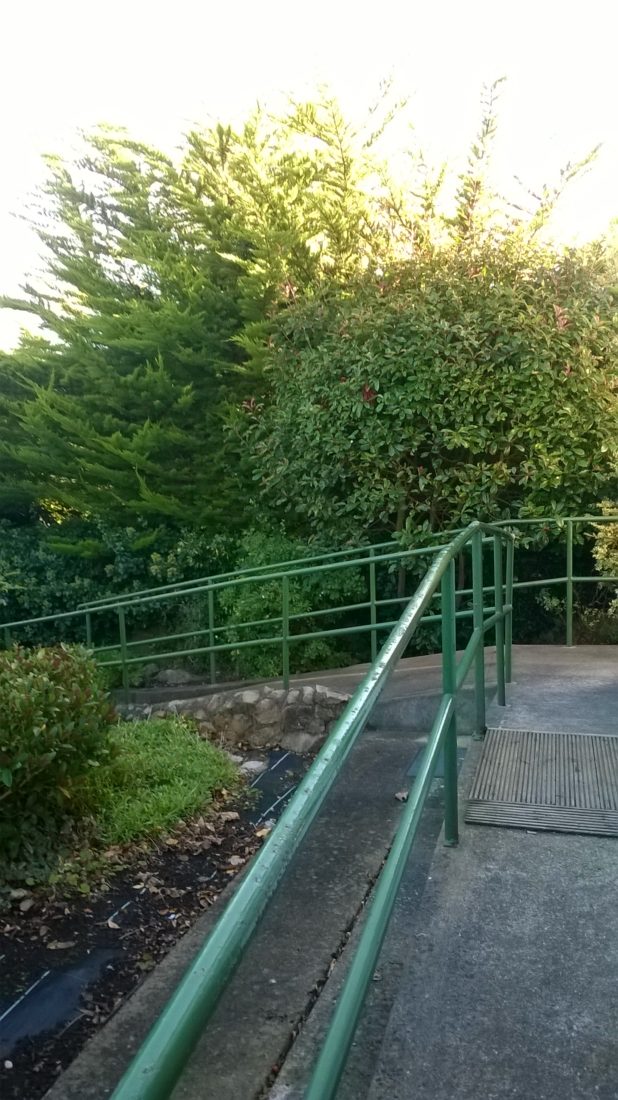 Anyway we all felt it had great potential and that a really interesting and charming garden could be created. The staff members are absolutely thrilled and are dreaming of fresh herbs for the kitchen and a patio where the residents can sit out. We are anxious that the residents will feel involved and they are being asked what they would like included. So far bird tables and feeders, a barbeque, lots of flowers and a patio are on their wish list. On the more practical side, the whole garden has to meet with mobility and safety regulations and "best practice" recommendations, not an easy task in limited space.
We realised that we needed volunteers to do a clearance on the garden. We also would have to engage the services of a garden landscaper to design a space which would fulfil all the above needs.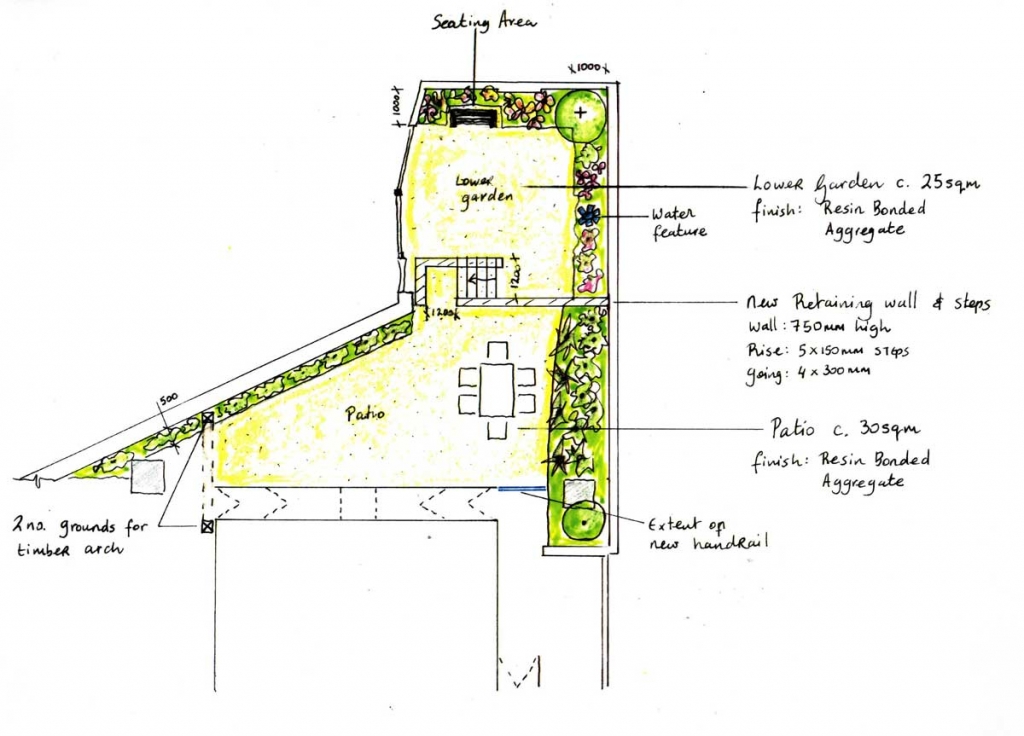 Fortunately my daughter in law, Ingrid, had just completed the RHS practical, theory and landscape design course. She agreed to do it without charge. Brendan Byrne, the maintenance manager at Carmona, has been extremely enthusiastic about the project and has pulled out all the stops to facilitate us. He and Ingrid discussed all the possibilities of the garden. She spent many a cold morning over the winter, measuring spaces, levels etc. She did an amazing job and managed to create a beautiful design out of what quite frankly seemed an impossible area.